BASKETBALL AND TRAINERS
Most of you know I'm a big Wisconsin Badgers fan, and if you follow college hoops you also know my boys have been struggling this year.  I used to kick back and giggle as recent Wisconsin teams methodically dismantled Big 10 foes on their way to a high seed in the tournament, but now I get on my trainer and air out the angst! Last night I rode out the entire Penn State game while visualizing those Madison hills at Ironman Wisconsin.
SNOW RUNNING 
Then, I woke up this morning to another reminder of Wisconsin, snow!  I mean, it wasn't 24 inches of snowmobiling layers we used to get back home, but it was pretty legit.  I was out of coffee, so I decided to drive over and grab some from Ugly Mugs, but my car got stuck on the first little hill.  I had to do that awkward back-up-into-the-intersection thing and turn around. I am officially Nashville.
But I was inspired and threw on my trail shoes.  It's four miles roundtrip and running in two inches of snow is absolutely awesome for old guys like me with sore ankles.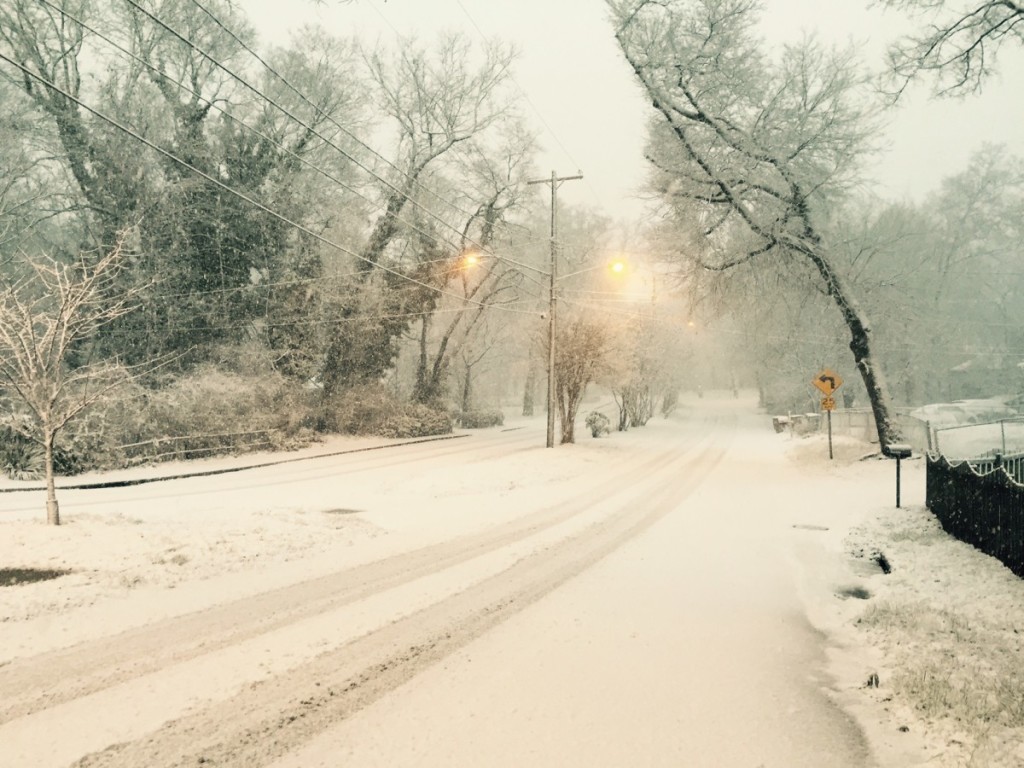 It was coming down pretty good and flakes pelted my eyes like needles, which I'm hoping is another great way to naturally improve eyesight.  Thankfully Ugly Mugs was open and I grabbed my beans for the return trip.
SNOW CROSSFIT
About a mile from home I saw a truck ahead spinning its wheels on a hill.  It was a typical Southern move by this guy . . . flooring it and going nowhere.  I closed in, then tore across the intersection without missing a beat and started pushing him up the hill.  I was also keeping him from slinking into the ditch.  For about 200 yards I pushed and steered the back end of his weightless truck bed.  The whole time I imagined he was the kind of guy that hated runners and I was building a bridge.  That he's in the truck with his wife saying, "Ya know, honey, these them there runner types ain't half bad."
When we finally got to the top of the hill, I gave him one final shove and yelled, "Slow it down a little!"  I never saw his face, but he put his hand out the window and yelled, "Thank ya, runner!"
I watched with pride as he crested the hill then disappeared into the rolling terrain ahead, and thought to myself, "He's fucked."
POLAR PLUNGE 
So, this has been on my mind for a while now and I'm looking for someone to join me in this recovery/healing plan.  Quick one minute dips into the ice tank. Who's with me?